Like most of you, I am not only passionate about sports and the stars that play the games (both current and former), but also the personalities on both the television and the movie screen. "Stars 4 Charity" is combining stars, their fans and the charities that need our help.

The stars listed on this webpage are dedicated to giving back. Each has offered to this website autographed photos so that their fans can obtain at a reasonable price. The best part is that the proceeds are given to the various charities articulated on this website OR to the star's specific charity that they have chosen.
With each purchase, you will receive a certified autographed, a certificate of authenticity and a card insert indicating what specific charity will see the benefit of your purchase.
Currently, the charities on this website include:

Veteran Owned Business Member
- our business is a proud member of the Veteran Owned Business Project. VOB is the leading FREE network portal of over 300,000 supporters and 25,000 businesses owned by military veterans (VOB), active duty military, reservists, service disabled veteran owned businesses (SDVOSB) and military spouses of the United States Army, Air Force (USAF), Marines (USMC), Navy (USN), Coast Guard (USCG) and National Guard. Join us in showing your support for our armed forces by proudly searching for products and services that are all made by, sold by or serviced by past/present members of the United States military community!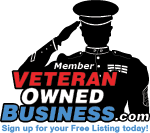 Links to partners/affiliates - check them out:
COMING SOON